"Our work with Ajith and the other companies on this project has been an important digital twin test bed for Bentley. We have specifically valued connecting real-world challenges with research leaders and the demonstration and understanding of the impact that digital modelling can make in our business" David Robertson, Director, Digital Advancement Research, Bentley Systems
Research lead: Dr Ajith Parlikad
Project partners: Distributed Information and Automation Laboratory (DIAL) at the Institute for Manufacturing (IfM), Bentley Systems, Redbite, Topcon and GeoSLAM
A digital twin is simply a digital representation of a physical asset or a system. By providing real-time data about its condition and how it is being used, digital twins will have an important role to play in planning and managing our key assets.
Digital twin technology, therefore, promises much for the construction sector. Indeed, one of the key recommendations in the National Infrastructure Commission's 2017 report, Data for the Public Good, is the development of a digital twin of Britain's infrastructure, that will help us better plan, predict and understand our assets. CDBB is taking this forward and work is already well underway on developing the information management framework that will need to underpin the creation of a national digital twin.
In the meantime, there is still work to be done on developing the technology, which is in its relative infancy. To demonstrate its value for facilities management, productivity and well-being, CDBB funded a project to create a digital twin of the University of Cambridge's West Cambridge site.
The project aims to:
show how digital twins can improve organisational productivity;
provide the foundation for integrating city-scale data to optimise city services such as power, waste and transport, and understand the impact on wider social and economic outcomes;
help researchers to understand and address the major challenges in implementing digital technologies at scale.
The West Cambridge digital twin project has brought together researchers and a number of specialist companies to create a 3D digital model of the site using drone- and vehicle based scanning and to create a register of its assets using an asset-tagging system.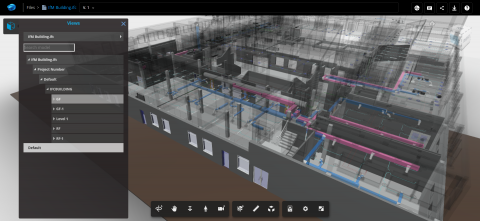 IfM Digital Twin
Digital twin technology relies on being able to integrate data from different data sources to enable effective data analytics and drive better decisions. In order to achieve this, the team is investigating ways to integrate the asset data with the 3D BIM model, ensuring that the digital twin adheres to common data standards and is interoperable. Using open standards is an important aspect of this project for two reasons. As well as helping to make sure that the digital twin development is vendor-agnostic, it is also a useful way of revealing any gaps and weaknesses in the current open source schema.
The project is also exploring potential applications for the digital twin. These include:
Better asset maintenance using predictive data analytics;
Better asset tracking;
More efficient use and management of equipment;
Finding ways to reduce energy consumption;
Using augmented reality to help with maintenance and inspection.
For more information on this project please contact research lead Dr Ajith Parlikad.