Future cities in the making–overcoming barriers to information modelling in socially responsible cities. ECR Project by Dr Franziska Sielker from University of Cambridge.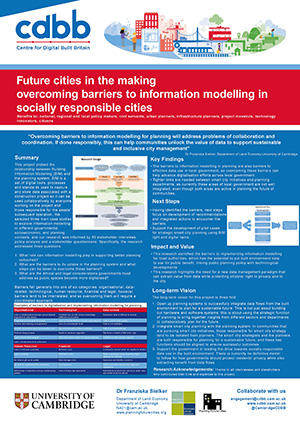 Dr Franziska Sielker, University of Cambridge
'Future Cities in the making – overcoming barriers to information modelling in socially responsible cities'
Information modelling techniques such as Building Information Modelling (BIM) and City Information Modelling (CIM) offer great potential to cities exploring how digital technology can help shape urban development, making services more efficient and effective and supporting the aspirations of communities to engage and express their needs in smart cities. Definitions and understandings of smart cities vary but the potential to roll out digital technology beyond buildings and sites to cities and regions, opening up opportunities to engage more stakeholders, helping shape the development of cities is driving the smart city in its many varied forms. However, our previous research on urban planning and future cities development shows that, despite increased attention and investment, and the dominance of the smart city leitmotiv in urban development strategies, many cities have not prepared for a digital future by making use of BIM or CIM. This lack of uptake is due to a number of factors, including shortcomings in governmental policies and guidelines for urban planning. Additionally, there is a lack of awareness around questions of data security, which must be addressed as cities embark on digital transitions. 
The UK's Digital Built Britain strategy focuses on the roll-out of BIM, deploying digital technology in the construction of concrete projects and throughout building lifecycles. While there are clear synergies and shared goals between smart city agendas, BIM and CIM, there are also barriers to capitalising on the significant potential of BIM and CIM for delivering people-centred future cities. 
The project aims to identify the planning issues at which CIM and BIM could best be targeted, to examine what digital information is commonly available in UK cities or what new information can be retrieved from the built environment through BIM, and how this data can complement or enable CIM in the UK. Second, the project aims to examine why cities and public stakeholders are not engaging with BIM and CIM, barriers to uptake and how the urban planning system can help to overcome existing obstacles. Third, the project aims to identify the challenges surrounding data privacy and security and strategies for addressing these concerns. In this context, the project explores BIM and CIM's longer- term implications and possibilities for society and citizens, investigating how to make BIM and CIM responsible, effective and sustainable for future city development. 
The project addresses three core research areas: 
Opportunities for smart city development through information modelling: what role can BIM and CIM play in supporting sustainable city development? 


 

Overcoming cities' barriers to making use of CIM for sustainable transitions: what are the barriers cities face to BIM uptake, using BIM in city planning and using CIM for urban development? How can these barriers be overcome? How does the inclusion of BIM change the planning process? What governmental strategies are needed to support strategic incorporation of BIM into city planning? 


 

Cities' new social responsibilities in handling digital data: how can cities address data sovereignty concerns and ensure socially responsible data use? 


 
This project takes a case study approach, looking at fast-growing cities, metropolitan areas, and stagnating or declining cities to better understand the different challenges to and opportunities for BIM uptake and using BIM to address a diverse set of contemporary planning challenges in a range of urban settings. The case studies chosen are Cambridge, representing fast-growing cities and Bristol as an example of a metropolitan area or medium-sized city. As a third case study a lower-performing Scottish region will be contacted. The project aims to share promising and transferrable strategies to help cities incorporate BIM into urban development in socially responsible ways, while using international experiences to evaluate the complex questions surrounding data sovereignty and to explore opportunities for citizen education and enfranchisement in a digitalised city environment.
Project Website:  Future Cities in the Making
Contact: Dr Franziska Sielker