The primary objective of the International work stream is to promote the UK BIM value proposition, approach and related standards to the international public sector community to grow an open digital construction market.  
One of the key drivers for a Digital Built Britain (DBB) is to support the continued drive towards increased construction industry exports and digital construction opportunities for UK businesses with an emphasis on professional services and product manufacturers. 
The International Development work stream of DBB helps to grow the global digital construction market in a way that is open and facilitates trade across national borders. The work stream develops capabilities of foreign governments and public clients in digital construction, and shares the UK's collaborative BIM programme: delivering a proven value proposition, a strategic programme and a standards based approach.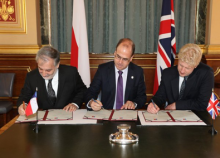 The work stream has four key pillars of activity that will be delivered by a dedicated team: 
Build public client demand: working with FCO/DIT, engage with and build buy-in with foreign governments; 
Delivery: build capacity of governments and public clients through training and support; 
Engage UK Supply: encourage UK supply chain to respond to new export market opportunities via communications and trade missions; and 
Standards: harmonise standards to support the internationalisation of UK BIM as the open standard. 
If you are interested in the international work of CDBB, please contact us at international@cdbb.cam.ac.uk