The primary objective of the International work stream is to promote the UK BIM value proposition, approach and related standards to the international public sector community to grow an open digital construction market.  
One of the key drivers for a Digital Built Britain (DBB) is to support the continued drive towards increased construction industry exports and digital construction opportunities for UK businesses with an emphasis on professional services and product manufacturers. 
The International Development work stream of DBB helps to grow the global digital construction market in a way that is open and facilitates trade across national borders. The work stream develops capabilities of foreign governments and public clients in digital construction, and shares the UK's collaborative BIM programme: delivering a proven value proposition, a strategic programme and a standards based approach.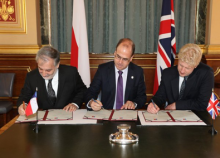 The work stream has four key pillars of activity that will be delivered by a dedicated team: 
Build public client demand: working with FCO/DIT, engage with and build buy-in with foreign governments; 
Delivery: build capacity of governments and public clients through training and support; 
Engage UK Supply: encourage UK supply chain to respond to new export market opportunities via communications and trade missions; and 
Standards: harmonise standards to support the internationalisation of UK BIM as the open standard. 
Current Country Updates from the International Programme:
LATAM (Brazil/Peru)
GIP BIM was highlighted in a joint statement from the UK-Brazil Economic & Financial dialogue in December.
The statement recognises the impact of the GIP programme in support of Brazil's efforts to attract private investment by promoting regulatory reforms that broaden the investor base in infrastructure sectors.
'Joint Statement by the Economy Minister of Brazil and the Chancellor of the Exchequer of the UK at the Fourth UK-Brazil Economic and Financial Dialogue, 10 December 2020
We welcome the UK's Global Infrastructure Programme, which is providing guidance and capacity building to the Brazilian Government in infrastructure project preparation, appraisal and approval through the UK's 5 Case Model methodology, plus project delivery support through the use of Building Information Modelling (BIM).'
450 more government officials in Latin America now understand BIM! 
As part of our GIP-funded  international programme during August remote training events were held for both Brazil and Peru on BIM Fundamentals and BIM Uses respectively. The training is a co-produced activity with delivery partners Mott MacDonald. Attendance over the two sessions was approx. 450 government officials.  Feedback was very positive, including the following remarks:
Brazil Attendee: "Considering that it is an introduction to the BIM universe, the course was well designed. The presentation in Portuguese was also a positive point."
Peru Attendee: "I have heard about this methodology, but on this occasion, thanks to you, I am now very clear of what it is about... It have been very didactical! I cheer the fact that it is already being implemented in our country, taking as a reference the successful cases presented today".
Colombia
Vice-President announces national BIM Mandate & CDBB International team host ministerial panel at launch of National BIM Roadmap
Colombia have reached a major milestone in their national digital transformation of infrastructure delivery and construction sector with both a 6yr mandate for use of BIM in all public works, and the public launch of Colombia's national BIM roadmap. The BIM mandate requires BIM methodology to be utilised in all public works within 6 years. The primary aim is to increase productivity by up to 60% in Digital Transformation and Artificial Intelligence.  In recognition of the UK's role in helping Colombia with this national digital transformation, the Colombian Chamber of Construction, CAMACOL, invited the head of our international team to chair the closing panel session with the two Ministers (of Transport and Housing) and the President of Colombia's investment bank
Media:
Peru
Peru's National BIM Roadmap published
The Peruvian Ministry of Economy & Finance published their National BIM Roadmap on the 9th of October. The 10-year BIM Implementation Plan for Peru is fully aligned with UK BIM principles & specifies the milestones for the progressive adoption of the BIM methodology throughout the public sector, as part of a National Multi-Year Programme and Investment Management strategy.
Media:
Vietnam
Use of BIM in Vietnam was reported on National TV (BBC equivalent) in a 17 minutes programme.
The international team's GIP-funded BIM programme (in collaboration with delivery partners Mott MacDonald) were featured on Vietnam television on 5th October. It featured key stakeholders in the Ministry of Construction, the UK Deputy Head of Mission in Vietnam and the signing ceremony from our pathfinder project. During the interview, DHM Marcus (BE Hanoi) highlighted the key areas of collaboration and how BIM was introduced and how it has helped to increase efficiency and transparency in the UK.
Media:
If you are interested in the international work of CDBB, please contact us at international@cdbb.cam.ac.uk