Submitted by Administrator on Thu, 02/08/2018 - 10:08
---
Adam Matthews, lead of the Centre for Digital Built Britain's International Programme, discusses the benefits of the UK Government's Prosperity funded Global Infrastructure Programme for partner countries and the UK.
What is the Global Infrastructure Programme (GIP)?
The GIP is a cross-Government initiative that introduces the UK's leading infrastructure methodologies -for business case development, project preparation and digital construction - to partner countries in Latin America, Asia and Africa.
This international initiative brings together the Foreign and Commonwealth Office (FCO), the Department for Business, Energy & Industrial Strategy (BEIS) and Infrastructure and Projects Authority (IPA) to support infrastructure development that helps the partner country to improve their economic, environmental and social conditions.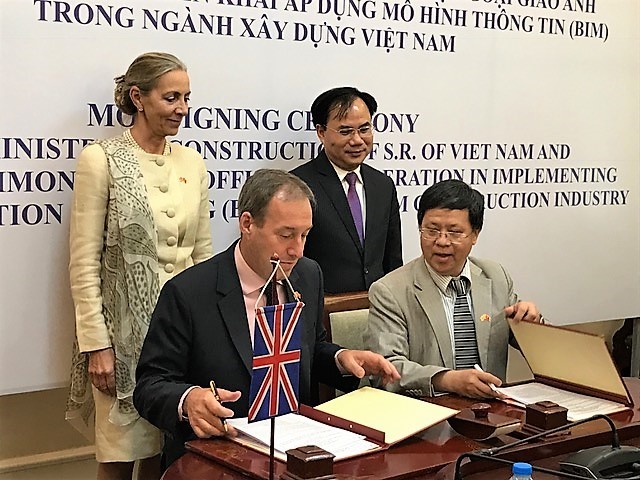 In addition, by helping to support infrastructure reform sustainably, the GIP is creating long-term commercial opportunities for UK and international businesses; and at the same time upskilling the local workforce.  It creates a powerful win-win for both the partner country and the UK.
Infrastructure is vital to a country's prosperity and is an enabler of economic growth and poverty reduction, but there is a global infrastructure 'gap' caused by 1) a lack of investable infrastructure proposals and 2) inefficiencies in the project development process.
The infrastructure gap is a major global challenge: it is estimated by the Global Infrastructure Hub and Oxford Economics to be $3.7tn globally per annum or $94.0tn between 2016 and 2040. This is the infrastructure deficit, we need to address it to sustainably support the world's growing population.
The GIP tackles these twin challenges of the lack of investable projects and inefficient project delivery and operations by bringing together three methodologies:
1)     the IPA developed '5 case model' for better business case development
2)     Structured project preparation using the 'Project initiation routemap'
3)     Building Information Modelling (BIM) to increase project efficiency and de-risking project delivery and asset operation
How does BIM support the national country prosperity?
The Boston Consulting Group[1] forecasts that the global digitalisation of construction would bring savings of up to 21 per cent by 2025. To put this into context, McKinsey[2] estimates that productivity improvements in construction could generate $1.6tn, which is equivalent to half the global infrastructure gap.
The UK has developed a national methodology for the introduction of BIM to help partner countries achieve their own policy goals, for example, increasing productivity, reducing infrastructure cost overruns and delays; and delivering better quality assets. 
The programme also develops commercial opportunities between the UK and partner countries by creating a common understanding and establishing standards that sustain global trade.
BEIS has tasked CDBB to provide the expertise around the national digital construction methodology, and delivering training and workshops to the countries' government officials. By introducing digital construction at a national scale this supports professionalisation of the sector and secures benefits for both the public and private sectors.
How, and where are we working?
The first stage of the country engagement is to agree to collaborate. This involves understanding what the government's goals are and how BIM could support them. Collaboration is sometimes underscored by a Memorandum of Understanding (MOU) between the UK and the partner country which marks a three-year commitment to support the joint efforts. In June and July of this year we were delighted to sign three MOUs with the governments of Vietnam, Indonesia and Colombia. 
The second stage of our engagement involves working with government policy officials and public infrastructure client organisations, to deliver training and workshops that inform the implementation of the national methodologies. The programme is designed to achieve long-term policy change so it is critically important that these methodologies add value to the partner country.
Our programme is not a simple "copy and paste" of the UK national BIM programme. We work with peers in partner countries to identify the adaptations required to meet local cultural, contractual and legal conditions and, importantly, to secure desired outcomes for that country. 
The third and final stage of our engagement applies to designated 'pathfinder countries' (including Colombia, Vietnam and Indonesia) which introduces the methodology to a pathfinder project.  This project could be a school, hospital or metro – which provides an opportunity to apply the adopted and adapted methodologies that will deliver transformational change, social benefits and bi-directional trade opportunities.
We want these projects to be successful learning experiences. GIP will procure UK consulting expertise under the FCO's framework to work with the country's government officials and project level client representatives. However, we don't want these to be 'one off' projects – we want the methodologies in these 'lighthouse' projects to be repeated across a national programme of infrastructure projects such that partner countries continue to capture maximum value and benefits from the programme over many years.
Having now signed the MOUs, we will be delivering training and workshops to all three of the pathfinder countries in advance of the phased transition to consultant support. The projects in Colombia, Vietnam and Indonesia are expected to start in early 2019.
During a visit to Colombia last year we met with the Ministry of Education that oversees an aggressive programme to build 50,000 new classrooms. The country has suffered from a lack of infrastructure investment for decades due to instability and conflicts and, even though conditions are improved, most children can only attend school for half a day due to a lack of classroom space. Digital and BIM offers a more effective way to progress the school building programme and would enable more children to receive an education, this in-turn has to be better for the prosperity of Colombia and the future of those individuals. It's that kind of meaningful impact that provides real motivation for the teams involved. 
There is huge demand and interest in all three of the methodologies and partner country public officials recognise the value proposition and see an opportunity for change by improving the way the sector works. As an example of this enthusiasm, in Vietnam there are 20 trial BIM projects in the pipeline and planning has now started for the official pathfinder project.
Securing a common understanding and a shared digital language for the built environment delivers domestic benefits, creates global conditions for prosperity and is facilitating trade across national borders for partner countries and the UK.  Collaborating with our partner countries we have an exciting opportunity to shift the productivity of the sector and to close the global infrastructure gap.
[1] Digital in Engineering and Construction: The Transformative Power of Building Information Modeling. The Boston Consulting Group. March 2016
[2] Reinventing Construction: A Route to Higher Productivity. McKinsey Global Institute in collaboration with McKinsey's Capital Projects and Infrastructure Practice. February 2017