Industry innovators from a range of infrastructure sectors attended the Centre for Digital Built Britain's (CDBB) inaugural event of CDBB Week – National Digital Twin Day.
The full-capacity event, presented in partnership with and hosted by the Institution of Civil Engineers (ICE) at its London HQ, featured contributions from digital pioneers from government and industry delivering expert guidance and practical insights on digital twins. National Digital Twin Day also marked the launch of CDBB's Digital Twin Hub 'DT Hub' and the release of CDBB's new animation 'What is the National Digital Twin?'
National Digital Twin Day brought together the UK built environment's digital leadership to present and discuss the latest developments, challenges and opportunities this emerging sector brings, highlighting how digital twin thinking can drive more value from data, optimise infrastructure performance and deliver better outcomes for society.

Unlocking value
Industry is increasingly alive to the potential benefits of the National Digital Twin (NDT) - cited by the National Infrastructure Commission as having the potential to unlock an additional £7 billion per year of benefits across the UK infrastructure sector . In addition to financial efficiencies, the NDT will bring benefits to society and the environment driving better outcomes for people per whole-life pound. Two years after the NIC report 'Data for the public good' set out a vision for the NDT to improve the way we plan, build, use and manage our infrastructure, the vision is gaining momentum and support – and is being guided by CDBB's Digital Framework Task Group (DFTG).
The event, which sold out, featured speakers representing a wide range of companies and organisations, including policy-makers and researchers. Delegates had the opportunity of networking at a 'town square' where sponsors Bentley Systems, Tony Gee and Topcon, and buyers and sellers of digital twin solutions, engaged. Live questions screened during plenary sessions prompted open discussion and debate adding to and shaping digital twin thinking.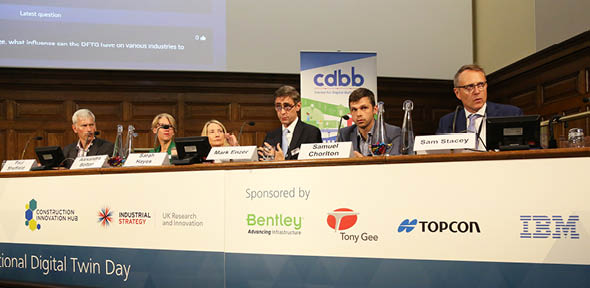 Call to collaborate
Alexandra Bolton, Executive Director, CDBB, who welcomed delegates to the event said: "Government has tasked CDBB's DFTG to facilitate the creation of the National Digital Twin. The UK has significant digital leadership expertise in this area and the CDBB programme engages with exceptional talent – from global organisations to SMEs and start-ups – all focused on the opportunities digital transformation brings. Our National Digital Twin Day brought together people, organisations and businesses to invite an aligned and collaborative approach to progressing this dynamic field establishing resilient and sustainable foundations from which the NDT can emerge. I spoke to many delegates on the day who expressed very positive views about National Digital Twin Day and I hope these open conversations will continue on our journey to establish the National Digital Twin for the common good."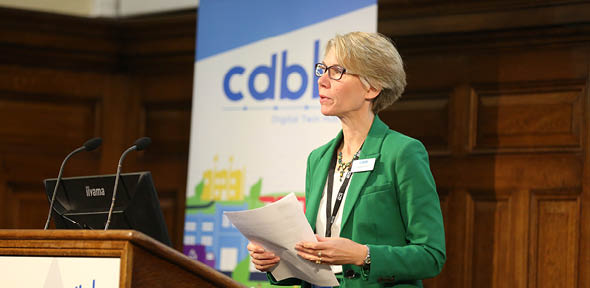 Sarah Hayes' (NIC) keynote considered the predictive possibilities of the NDT and the benefits these bring to the infrastructure sector where testing scenarios to identify consequences and outcomes is difficult due to the large scale and associated costs of infrastructure projects. The NDT could help to answer questions around housing, transport routes, energy and net zero carbon. Acknowledging the momentum gained in the two years since the 'Data for the public good' report set out a vision for the NDT, Sarah applauded collaboration between CDBB, the Alan Turing Institute and the network of universities researching digital twins: "This kind of collaboration will accelerate our progress towards a National Digital Twin which will give us a bird's eye view across a city or town to plan, predict and improve our quality of life."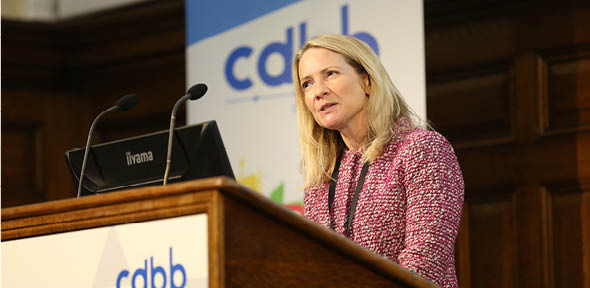 Alignment for common good
Mark Enzer (CDBB's Digital Director) described the ecosystem of connected digital twins that creates the National Digital Twin as "a key part of fulfilling the vision of a digital built Britain". Recognising industry's rapidly growing appetite to create digital twins to unlock value, he highlighted the potential benefits of individual digital twins, but urged industry to align in order to enable the connections between digital twins. "We need to collaborate across the industry to deliver the National Digital Twin Programme.  A key role of CDBB is to facilitate the alignment that's required to enable secure resilient data sharing, which is at the heart of connecting digital twins."  And a good starting point are CDBB's Gemini Principles, the values developed to guide the development of the National Digital Twin.

CDBB's Digital Twin Hub
Officially launching the CDBB DT Hub, Samuel Chorlton, Chair of the DT Hub, presented the aims of the DT Hub as a collaborative web-based community to support organisations on their digital twin journey. Bringing focus to the benefits of learning from each other's experience to overcome challenges and demonstrate success, Samuel set out the membership of the DT Hub comprising organisations currently developing digital twins and plans to expand membership in the longer term: "Only as the DT Hub grows can we demonstrate success. We will draw on the DT Hub network to push ahead and show what the capabilities of digital twin thinking and the National Digital Twin really are."

Momentum for digital transformation
Sam Stacey (Transforming Construction, UKRI) presented the funding landscape for innovation in UK construction. He outlined significant government support and the effective work by organisations, including the Construction Leadership Council (CLC) and i3P, to address challenges resulting from a fragmented sector and drive industry integration. Acknowledging the increasing momentum for digital transformation, Sam highlighted the work of the Construction Innovation Hub (CIH) that brings together three centres of excellence (CDBB, Building Research Establishment (BRE) and the Manufacturing Technology Centre (MTC)) as pivotal to driving innovation in construction to boost productivity and deliver benefits to society.

Demonstrating digital twins
Case study presentations demonstrated how digital twin thinking is contributing to success across sectors:
Peter van Manen, Fraser Nash Consultancy, discussed how digital twins are used to improve performance in Formula One, providing lessons learned and presenting the benefits of real-time data and analytics: "There is nothing like knowing what is happening now to make clear decisions. Real-time data allows you to have more time to understand the context for decision making."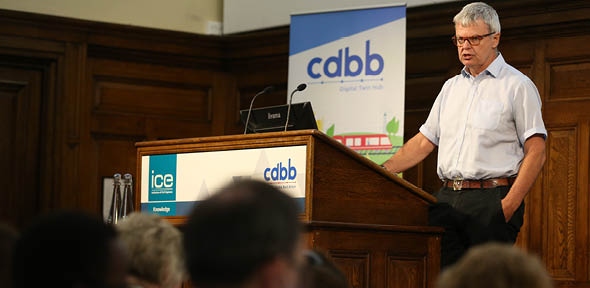 Molly Strauss, Principal Policy and Programme Officer, Greater London Authority, highlighted key projects contributing to London's digital twin programme of work, including London's Underground Asset Register in partnership with the Geospatial Commission: "We develop digital twins to answer questions – each twin answers a specific question. There is a lot of learning coming out of this which we hope to share."

Benchmarking best practice
The event also launched the publication of the Digital Transformation Task Group's (DTTG) Smart Infrastructure Index Report 2019. Titled 'Common challenges, shared response', prepared by Mott MacDonald and sponsored by the Infrastructure Client Group (ICG) and Institution of Civil Engineers (ICE), the report identifies best practice from the ICG and highlights areas where collective action is needed to remove blockers and accelerate progress across the Energy, Transport and Water sectors. Jamie Radford, Digital Transformation Lead at Mott MacDonald presented key findings from the report which highlight: inadequate understanding of the digital skills gap; poorly organised information preventing its full value from being realised; and a need to balance innovation and risk. Jamie said: "Digital transformation will be a major contributor to achieving the step change in efficiency our industry needs to meet increasing pressures ranging from rising populations, the desire for social development and the urgent need to drive down carbon emissions."

Identifying purpose
A panel session featuring members of the DFTG and DTTG included: Jennifer Schooling OBE, Director of the Centre for Smart Infrastructure and Construction (CSIC) and CDBB's Director of Applied Research (who sits on both the DFTG and the DTTG); Matt Edwards, Chief Data Officer, Anglian Water; Jon Kerbey, Digital Director, Heathrow; Leigh Dodds, Director of Advisory, Open Data Institute; Emily Kearney, Director, UK Regulators' Network. Discussion explored the tension between the need to robustly underpin the guiding foundations for a NDT – work being driven by CDBB's DFTG, including the Gemini Principles and Roadmap for delivering the information framework for the built environment – and industry's efforts and enthusiasm to push forward and make progress. Speakers reflected on the importance of identifying purpose and clarity in the process of engaging with digital twins and being clear as to the questions organisations are trying to answer and what they ultimately want to achieve. Openness, security and quality and demonstrating and measuring benefits were identified as key drivers.
Matt Edwards, Chief Data Officer at Anglian Water, said: "As early adopters both our Strategic Pipeline and our digital ambition are significant undertakings for ourselves. In broadest terms we are building and integrating a very long pipelinewith a range of existing treatment and storage assets that will help us to increase our resilience across our water network. What is most important is the linking of digital twin development to the overall purpose and strategy of the organisation. If this is going to work for us we must ensure the benefit drivers are aligned to the corporate objectives hand in glove – including our performance targets to our regulators, our financial and efficiency targets and our commitment to our customers and to the environment. If it doesn't make sense to the organisation, top to bottom, then it won't make sense for our exploitation for a digital twin capability."
Interactive workshops
Interactive digital twin workshop sessions led by digital twin leadership and industry pioneers offered practical insights at all levels, from initial understanding of the concept (led by Costain) and early adopter troubleshooting and lean innovation (led by Pcubed), to an enhanced level (led by Bentley Systems). Further workshops explored the role of small and medium sized enterprises (led by TechUK), the impact of data on finance (led by Estates and Infrastructure Exchange) and discussed driving the Information Management Framework (led by IBM).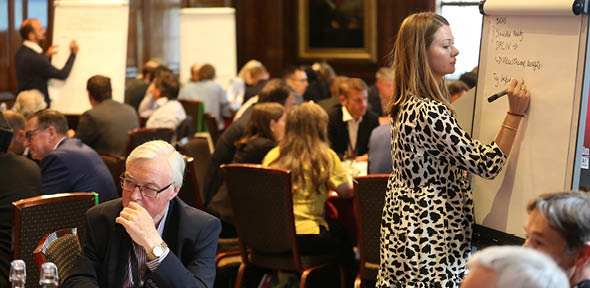 Matthew Evans, Director of IoT Programme, Tech UK, who led the Digital Twins and SMEs workshop featuring presentations by four SMEs including: Tonic Analytics; Contilio; Integrated Environmental Solutions (IES); and Activeplan Consulting said: "Attendees would've seen the incredible range of expertise and experience SMEs have in either delivering digital twins or in providing the data that will bring them to life. I thought that there were two key challenges. The first was to those helping to steer the National Digital Twin project, myself included, and how to ensure that SMEs can help steer direction of travel so that they are engaged in this work. The other was to large contractors and customers to provide the right engagement and practices to be able to take advantage of what SMEs can and are delivering in this market."
Open debate at 'Ask us Anything' panel
National Digital Twin Day concluded with a plenary 'Ask us Anything' panel session featuring: Anne Kemp, OBE, Chair of the UK BIM Alliance and Fellow and Technical Director for Digital Engineering and BIM Strategy and Development at Atkins and convener for ISO 19650 (International Standards for BIM); Bhupinder Singh, Chief Product Officer, Bentley Systems; and Paul Wilkinson of consultancy pwcom.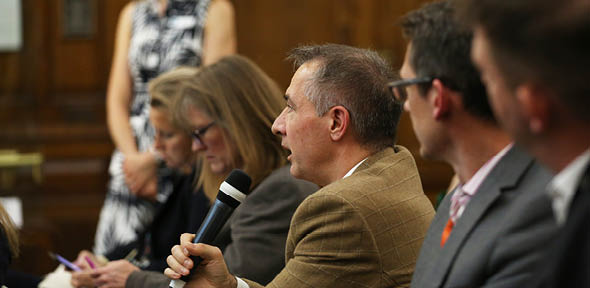 Frank and open discussion, interaction with the audience and live Slido questions from interested parties outside of the event informed conversation. Discussion considered the process of digital transformation evolving from BIM and the tensions between securing an open data environment necessary for enabling integration to unlock value, and an individual organisation's concern to safeguard competitive advantage. The importance for digital twins to address existing as well as new infrastructure to create a two-way conversation between physical and digital assets to optimise operation and integration also arose.
Bhupinder Singh: "As a company we have celebrated 35 years in business and are excited to now be driving the third evolution in technology since our founding – CAD to BIM and now Digital Twins". We are excited about offering an open-source platform for delivering cloud services for digital twin-enabled solutions and the safety and resilience and new business models that digital twins bring. I've also been struck today by hearing about the inhibitors – information in silos, 95 per cent of data being inaccurate and 75 per cent of data being missing – and thinking of how our iModel.js open-source platform can help with that challenge."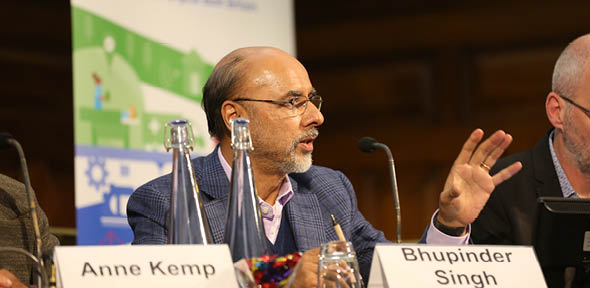 Anne Kemp: "ISO 19650 is about whole life and anticipates what we need from the NDT and the UK BIM framework as the foundation for the NDT. What I am excited about is that we can really start to look at what the societal benefits will be – this is not just about the construction industry any more. As individuals we need to listen to one another, reach a consensus and integrate to tackle the challenges ahead of us. Let's not get overwhelmed – let's get started."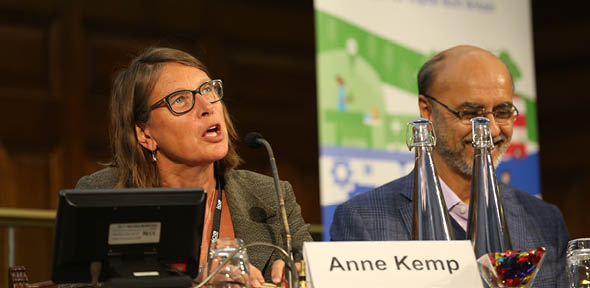 National Digital Twin Day 2020
CDBB's National Digital Twin Day was the first in an annual event planned to engage the ambition, developments and debate across industry, policy and academia as the UK progresses on its journey to create the National Digital Twin.