The Vision Network intends to outline a complete and useful landscape of state-of-the-art research and technologies in Augmented Reality (AR) and Virtual Reality (VR).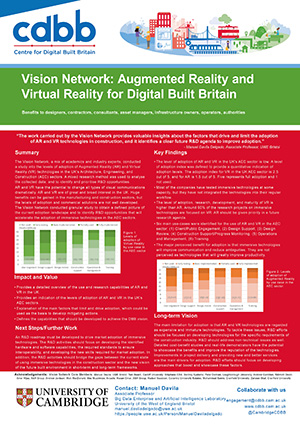 Dr Manuel Davila Delgado, UWE Bristol
'Vision Network: Augmented Reality and Virtual Reality for Digital Built Britain'
[FINAL REPORT] - https://doi.org/10.17863/CAM.40454
AR and VR technologies are becoming widespread and are evolving the meaning of visual communication. Every industry will be affected by AR and VR technologies. So far, they have been used for: (1) gaming and entertainment, (2) tourism, (3) marketing, (4) education and training, etc.  
As part of the DBB framework, AR and VR technologies are of utmost importance as industries of architecture, construction and engineering rely heavily on imagery for communication. The National Infrastructure Commission report, Data for the Public Good, (December 2017), considered AR and VR as key new technologies to increase the productivity of infrastructure and support decision-making. AR and VR technologies will be essential when visualising data in real-time - as well as in context - to enable the smart cities and smart infrastructure paradigms.  
The Vision Network is composed of a mix of academics and practitioners with extensive and varied expertise in digital technologies, applied specifically to engineering and construction.  
The Vision Network will contribute to developing the research agenda, enhancing the level of performance and digitisation for future smart cities and smart construction at citizen, portfolio, organisation and project levels. More specifically, the Vision Network will define a visualisation research agenda that considers: 
the three asset DBB stages i.e.: Delivery, Operation, and Integration;  
the various stakeholders through the life-cycle of the asset (e.g.: owner, builders, managers, users, etc.);  
different spatial scales (e.g.: room, building, blocks, neighbourhoods, regions, etc.). 
To summarise, the objective of Vision Network is to delineate the current AR and VR technologies and identify their potential to contribute to the development of the Digital Built Britain vision. 
Workshops 
CDBB's Vision Network held a successful afternoon workshop on the 24 October. The workshop addressed benefits and sources of value for different stakeholders and challenges for previously identified use cases. 
Participants included BuroHappold Engineering, Foster + Partners, Galliford Try, Middlesex University, Imperial College London, HSSMI, University of Strathclyde, COMIT, Tony Gee and Partners, Stantec, Cranfield University, Mott, Wilmott Dixon, Coventry University, Arcadis, and Bentley Systems.
It was a successful workshop, that started the process of delineating the current AR and VR technologies and identify their potential to contribute to the development of the Digital Built Britain vision. The next workshop will be held on 24 November at the Manufacturing Technology Centre. You can register here: https://goo.gl/forms/9zgZAB8mNg3SbLeI3 or find out more via Manuel Davila Delgado.  
For more information, and to keep up to date with the Vision Network, please contact Dr Manuel Davila Delgado.