Submitted by Angela Walters on Wed, 21/02/2018 - 21:14
---
Arthur Lankester, Smart Cities Expedition, explains his upcoming one-man-on-a-motorcycle expedition to Smart Cities in Europe and beyond.
Innovation and sustainability champion, Arthur Lankester, will visit smart cities all over the world in search of sustainable solutions and inspiring stories during his one-man-on-a-motorcycle Smart Cities Expedition. Ahead of the tour Arthur shares his agenda.
In May of this year I will leave my home city of Amsterdam to begin the Smart City Expedition. I plan to travel on my Suzuki V-Strom to visit smart cities all over the world, covering an estimated 43,500km from May 2018 to June 2019.
At each city I will look for citizen-led projects that are engaging with sustainability and I will tell these stories through blogs, podcasts, videos and pictures that will appear on my Smart Cities Expedition website.
Why am I doing this? My grandmother taught me that the beauty of life is in the process of creating and working towards something long-lasting. This lesson started me thinking about the world and its resources. 
Cities have a significant role in the transition to global sustainability – figures predict 70 per cent of the world population will live in cities by 2050. This brings challenges but it also brings opportunities; in terms of making impact I think smart cities are very interesting, very promising.
My background is in organisational psychology and IT innovation where I learned the power of the social element in the process of developing something new – communicating with the end users, sharing knowledge and experiences. This is crucial to success and I want to turn my knowledge and efforts to helping make a more sustainable world.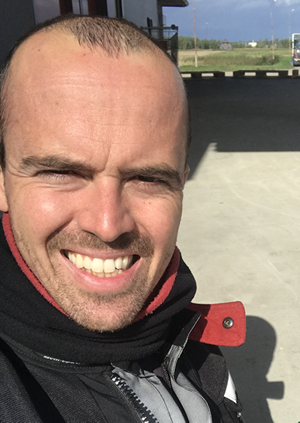 Social connection can be a powerful tool. When people really connect with each other solutions can emerge. For me the smart city is about knowledge sharing, creativity and embracing difference and diversity to implement ideas that build a better society.
I anticipate there will be certain themes running through smart cities in different countries, for example finding sustainable solutions to the environmental challenges facing all cities, such as reducing CO2 levels from domestic energy consumption. Buildings are responsible for 35 per cent of CO2 emissions (in terms of energy consumption) and have the biggest carbon footprint, compared with end-user consumption areas: food 30 per cent and transport 20 per cent. That is why the European Commission and Smart Cities Information Systems (SCIS) has made energy saving and renewable energy of building areas one of the key priorities in the sustainable transition.
The main points of difference will come from the level of maturity of the city and its style of governance. A smart city, like Eindhoven in the south of the Netherlands, where Mary-Ann Schreurs is Vice-Mayor of Innovation and Culture, is at a very high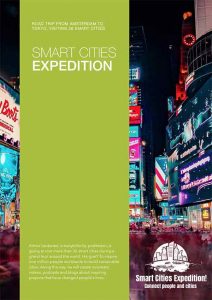 level of maturity, but other cities are only just starting to change. A philosophical and ethical framework is key to the development of smart cities; we need transparency around how data is used, what kind of algorithms and logic is being applied and what decisions and actions these trigger.
About 50 per cent of my itinerary is planned in advance through contact with networks like living labs, but the rest is open. When I arrive in a city I will talk to people in that community to find citizen-led projects addressing sustainability and I don't know where this will take me – it is an adventure. I hope people who hear about my travels will get in touch to tell me about their projects. My website can provide a platform for them too.
At the end of the Smart Cities Expedition I hope to have created a useful and inspiring source of information, a catalogue of stories that policy makers and interested people can access freely to learn about sustainability in smart cities all over the world. People can share ideas and contact each other. The Smart Cities Expedition is, I hope, the start of a very interesting and meaningful conversation.
To follow Arthur on his Smart Cities Expedition see http://www.smartcitiesexpedition.com/
The CDBB website will post updates of Arthur's expedition which will be visiting the UK in May 2018.