Submitted by Angela Walters on Mon, 18/06/2018 - 12:42
---
Following the Call for Networks announced earlier this year, we are delighted to announce the six successful funded networks. These networks will now begin their work towards forming the agenda for future research in support of a digital built Britain.
These networks were all rated highly in their ability to help create the landscape and agenda in their respective areas. Their multi-institutional approach and openness will be an important factor in allowing other inputs to the journey towards creation of a jigsaw of the research landscape. 
It is important to note that there will be additional calls for research announced soon, which will aim to fill identified gaps in the landscape picture.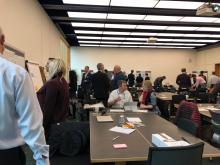 Details of the funded networks are listed below, along with the lead contact for each. If you are interested in getting involved with any of these networks we would encourage you to get in touch with the lead in the first instance. If you would like to hear a short overview and meet any of the peopled involved then you may be interested to attend our Summer Showcase on 30 July, where these will be presented.
Funded Research Networks (subject to contract):
D-COM: Digitisation of Requirements, Regulations and Compliance Checking Processes in the Built Environment 
Tom Beach, Cardiff University
Housing Digital Built Britain
Gemma Burgess, University of Cambridge
Vision Network: Augmented Reality and Virtual Reality for Digital Built Britain
Manuel Davila Delgado, UWE Bristol 
Pedagogy and Upskilling
Jason Underwood, University of Salford
Methodologies for Planning Complex Infrastructure under Uncertainty
Chris Dent, University of Edinburgh and Alan Turing Institute
Network FOuNTAIN: Network For ONTologies And Information maNagement in Digital Built Britain
Peter Demian, Loughborough University