Submitted by Angela Walters on Fri, 12/04/2019 - 16:43
---
Bridging the gap between construction and manufacturing
Research lead: Jaimie Johnston - Bryden Wood, The Manufacturing and Technology Centre (MTC), CDBB 
The "off-site revolution" in the construction sector has been talked about for many years without much progress. However, there are a number of reasons to support the view that we are now on the cusp of significant change. The sector is facing well-rehearsed challenges in relation to costs, labour, productivity and the fragmented nature of its supply chain. Globally, we need to find a way of building homes for an urban population that is likely to increase by 2.5 billion by 2050. At the same time, the uptake of BIM means that the digital tools needed to support a manufacturing-led approach are being put in place.
In March 2018 Bryden Wood Technology Ltd published a report for CDBB setting out the benefits of a manufacture-led approach to construction and showing how it would support the commitments made by the UK government to improving the construction sector. In particular, it looked at ways in which the construction sector could learn lessons from the manufacturing, automotive and software industries and create significant value by doing so. Platforms have been critical to the development of both of these industries, allowing them to scale and innovate while reducing costs through increased efficiency.
The report, Delivery Platforms for government Assets: Creating a Marketplace for Manufactured Spaces, explains how the construction sector could borrow this platform approach to design for manufacture and assembly, or P-DfMA, to achieve a much more efficient and scalable approach to physical construction. In construction, most buildings relate to the human form. This means that dimensions such as ceiling heights or distance from a window fall within predictable ranges, which can be used to define a small number of platforms that can accommodate a wide range of needs, from a bedroom to a sports hall. Within those platforms, connections and interfaces can be standardised so that just a few designs meet a huge range of needs, and many components are repeatable. The report found that on projects for the Ministry of Justice it's possible to construct almost all of the complex estates using a combination of just three platforms.
P-DfMA is typified by "continual improvement" – the components are improved or expanded over time by incorporating lessons learnt and innovations in materials science and manufacturing processes. This is very different to the "constant reinvention" of traditional construction where there is a lack of standardisation and components tend to be designed from first principles for every new asset.
Driving P-DfMA through government procurement
In November 2018 the government published details of a proposal for a preferred approach to building infrastructure using P-DfMA, where it presents value for money. Results from this call for evidence will feed into the development of the P-DfMA strategy for government, to be led by the Infrastructure and Projects Authority (IPA) and the Department for Business, Energy & Industrial Strategy (BEIS). Through the Core Innovation Hub, CDBB, as part of the Transforming Construction Alliance, will support pilot P-DfMA construction projects in government departments.
What is a P-DfMA?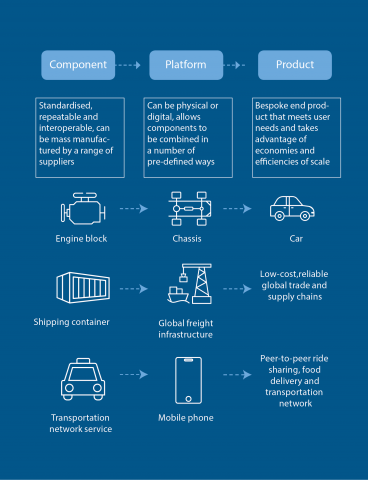 P-DfMA provides the ability to adopt "mass customisation", combining the flexibility and personalisation of custom made products with the low-unit costs associated with mass production. For example, a single component could be used as part of a school, hospital, prison building or station, minimising the need to design bespoke components for different types of commonly built asset. Construction platforms would be made from components (products or sub-assemblies manufactured by a range of suppliers), with known interfaces, that could be combined in a consistent and well-defined way to create high performing assets.