Submitted by Angela Walters on Wed, 20/06/2018 - 12:59
---
This Mini-Project developed a case study of The Edge in Amsterdam, billed as the world's smartest building, for the Centre for Digital Built Britain (CDBB). Developing the future of the digital built environment will require intensive study of a number of exemplars and The Edge, designed on Internet of Things (IoT) foundational principles by OVG Real Estate and PLP Architecture and completed in 2015, is seen as the most connected building to date.
The Edge showcases the benefits of taking a Building Information Modelling (BIM) approach to asset design, construction and management. It is of particular interest in the context of the evolution to 'operate and integrate' that will enable the optimisation of organisational business services and socio-economic outcomes.
The structure
Completed in 2015, The Edge has been described as a 'computer with a roof'. It was BREEAM's (Building Research Establishment Environmental Assessment Method) highest rated building for a number of years. The Edge pioneers digital built environments by combining sustainable architectural design with a digital backbone – 28,000 sensors feed user-generated data into a 'data lake' for analysis and modelling to better inform asset management and efficiencies. 
Although the project did not directly reference BIM, the structure's adoption of smart technologies, including automated energy performance visualisation, building usage monitoring, predictive facilities maintenance and post-processing for energy analysis, achieves many of BIM's benefits.
The Edge came from the desire of professional services network Deloitte to reduce desk numbers by 36 per cent while accommodating a 78 per cent increase in employees by innovating a task rather than person-based assignment system.
The thinking
By promoting the idea of not having a dedicated desk and sharing space issues of claiming territory and loss of ownership are confronted by occupants.
Data for improved asset management
A Mapiq app is used by occupants to book space and manage environments. The Edge deploys intelligent digital cartography by mapping its users, occupancies and facilities use. Deloitte continuously harvests data on staff activities and interaction allowing facilities managers CBRE to predict areas that require more upkeep or resources than others.
Potential and limitations
The Edge is without peer in the application of IoT to an office building. However despite having the technology to realise its potential, the quantity of data generated is huge and its collation not fully engaged with. The data collected is not analysed in real-time and requires intelligent application to leverage value. For a building that has reinvented the future of workspace its full potential is yet to be unleashed.
Also, technology is not always seen as an ally by users. Deloitte employees often choose not to be tracked by the Mapiq app. This type of issue is key in the context of General Data Protection Regulation (GDPR). Deloitte share The Edge with a number of other firms. The Edge's data lake server belongs to Deloitte, although it agreed to share data with its co-occupants for statistical purposes. Data ownership is an ongoing and ethical issue; if ownership of The Edge changes would the data be sold to the new owners?
Digital ecosystem
A successful IoT building and BIM implementation requires digital synchronisation of sub-components of building maintenance, energy use, facilities and user data. This needs software ecosystems (SECO) from different vendors and software service providers for sustained upkeep, security and data sourcing. Ultimately an integrated system will take buildings from responsive to predictive.
Effective communication between key drivers and project partners, as at The Edge, reflects BIM's push to a Common Data Environment (CDE) for more democratic links between architects, consultants, vendors and building contractors to share project-related information and risk.
Lessons learned and future prospects
In a building where data can quantify any activity and energy usage appliances, it is important to know what exactly it is that you are looking for; it is only by asking the right questions of data that one can receive required answers.
The interaction between The Edge's key project partners reflects the ambitions of BIM and is comparable to local and national governments who could accelerate BIM uptake, particularly for public projects, by underwriting risk to incentivise developers to explore new ideas with confidence.
photo credit: Ronald Tilleman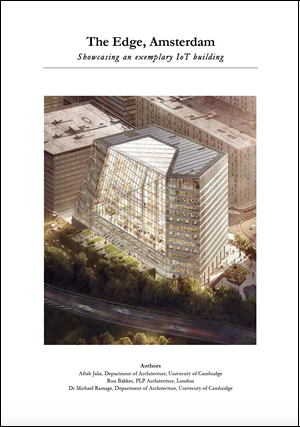 The Centre for Digital Built Britain is a partnership between the Department of Business, Energy & Industrial Strategy and the University of Cambridge to deliver a smart digital economy for infrastructure and construction for the future and transform the UK construction industry's approach to the way we plan, build, maintain and use our social and economic infrastructure.
'The Edge Amsterdam – showcasing an exemplary IoT building' case study is by Aftab Jalia and Dr Michael Ramage, Department of Architecture, University of Cambridge and Ron Bakker, PLP Architecture, London. This case study is one in a series highlighting the CDBB-funded Mini-Projects 2018 which consider how digital technologies impact the built environment, and how society might be affected by the changes which may follow from the employment of these technologies.
Click on the image to download the full report.